By Collection Management Librarian Kathy
Daylight saving time wreaking havoc with your schedule? Annoyed that it's dark at 5 pm? Just remember what Einstein wrote: "The distinction between past, present, and future is only a stubborn, persistent illusion." In other words, time itself is an illusion.
Perhaps these time-travel novels prove it. Or they can just distract you from having to change the clocks.
Time-travel books in honor of daylight saving time
Why you should try it: If what you love about time travel is contemplating the merits (ethics, even) of changing the past, then this is for you.
Description: In 1986, renowned nuclear scientist, Anna Berkova, is sleeping in her bed in the Soviet Union when Chernobyl's reactor melts down. It's the exact moment she tears through time—and it's an accident. When she opens her eyes, she's landed in 1992 only to discover Molly, her estranged daughter, shot in the chest. Molly, with her dying breath, begs Anna to go back in time and stop the disaster, to save Molly's daughter Raisa, and put their family's future on a better path.
Find all available formats in the catalog »
Why you should try it: Charming and comforting time-travel stories perfect for cold and dreary days.
Description: Tales from the Cafe follows the story of four patrons who visit to take advantage of café Funiculi Funicula's time-traveling offer and revisit moments with family, friends, and lovers. Each one must face up to the past to move on with their lives.
Find all available formats in the catalog »
Why you should try it: Time travel with a heavy dose of pop culture and humor. You'll love Oona!
Description: It's New Year's Eve 1982, and Oona Lockhart has her whole life before her. At the stroke of midnight, she will turn 19, and the year ahead promises to be one of consequence. As the countdown to the New Year begins, Oona faints and awakens 32 years in the future in her 51-year-old body. Greeted by a friendly stranger in a beautiful house she's told is her own, Oona learns that with each passing year she will leap to another age at random.
Find all available formats in the catalog »
Why you should try it: Do you prefer your time travel to be more science-based and suspenseful? Try the mind-bending Recursion.
Description: At first, it looks like a disease. An epidemic that spreads through no known means, driving its victims mad with memories of a life they never lived. But the force that's sweeping the world is no pathogen. It's just the first shock wave, unleashed by a stunning discovery—and what's in jeopardy is not our minds but the very fabric of time itself.
Find all available formats in the catalog »
Why you should try it: Armstrong puts her own clever and fresh spin on familiar time-travel tropes.
Description: When Mallory wakes up in Catriona's body in 1869, she must put aside her shock and adjust quickly to her new reality: life as a housemaid to an undertaker in Victorian Scotland. She soon discovers that her boss, Dr. Gray, also moonlights as a medical examiner and has just taken on an intriguing case, the strangulation of a young man, similar to the attack on herself. Her only hope is that catching the murderer can lead her back to her modern life . . . before it's too late.
Find all available formats in the catalog »
Why you should try it: It's got science and heart AND Booklist says it's a winner for fans of Doctor Who.
Description: Kin Stewart is an everyday family man: working in IT, trying to keep the spark in his marriage, struggling to connect with his teenage daughter, Miranda. But his current life is a far cry from his previous career . . . as a time-traveling secret agent from 2142. Stranded in suburban San Francisco since the 1990s after a botched mission, Kin has kept his past hidden from everyone around him. Until one afternoon, his "rescue" team arrives—18 years too late. Their mission: return Kin to 2142, where he's only been gone weeks, not years, and where another family is waiting for him. A family he can't remember.
Find all available formats in the catalog »
Why you should try it: Newitz's 2019 novel combining time travel and feminism could not be more prescient.
Description: Determined to use time travel to create a safer future, Tess has dedicated her life to visiting key moments in history and fighting for change. But rewriting the timeline isn't as simple as editing one person or event. And just when Tess believes she's found a way to make an edit that actually sticks, she encounters a group of dangerous travelers bent on stopping her at any cost.
Find all available formats in the catalog »
Why you should try it: Less traditional time travel and more Groundhog Day, this rom-com is sure to win you over.
Description: Megan Givens and Tom Prescott are heading into what is supposed to be their magical wedding weekend on beautiful San Juan Island. But with two difficult families, 10 years of history, and all too many secrets, things quickly go wrong. After a disastrous rehearsal dinner they vow to call the whole thing off—only to wake up the next morning stuck together in a time loop. Are they really destined to relive the worst day of their lives, over and over?
Find all available formats in the catalog »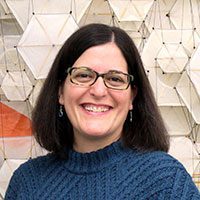 About Kathy
Kathy is a Collection Management Librarian who loves reading, sharing, and talking about books. Her missions in life are to create communities of readers, convince folks that her official title should be "Book Pusher," and refute that "disco" is a dirty word.