By Collection Management Librarian Kathy
Looking to read more this year? Or better yet, looking to expand your reading horizons? Reading challenges are great ways to do both! Try one of these titles that will start you off on the right track to meet your 2023 reading goals.
Titles to challenge yourself
Why you should try it: Davis's memoir made multiple best of 2022 lists—both for biography and audiobook—which makes it perfect for Book Riot's challenge of listening to an audiobook written and read by a person of color.
Description: In my book, you will meet a little girl named Viola who ran from her past until she made a life-changing decision to stop running forever. This is my story, from a crumbling apartment in Central Falls, Rhode Island, to the stage in New York City, and beyond.
Find all available formats in the catalog »
Why you should try it: This adorable cover—apt for POPSUGAR's book with a rabbit on the cover challenge—hides some very bizarre and wonderful horror stories.
Description: A stunning, wildly original debut from a rising star of Korean literature—surreal, chilling fables that take on the patriarchy, capitalism, and the reign of big tech with absurdist humor and a (sometimes literal) bite.
Find all available formats in the catalog »
Why you should try it: This creepy atmospheric thriller is being turned into the movie Knock at the Cabin, which makes it a winner for Novelist's challenge of a book being adapted into a TV show or movie.
Description: One afternoon, as Wen catches grasshoppers in the front yard, a stranger unexpectedly appears in the driveway. Leonard is the largest man Wen has ever seen, but he is young and friendly, and he wins her over almost instantly. Leonard and Wen talk and play until Leonard abruptly apologizes and tells Wen, "None of what's going to happen is your fault."
Find all available formats in the catalog »
Why you should try it: The Free Black Women's Library (pdf) challenges you to read only books by Black women or non-binary authors all year long. For a comic series or graphic novel, try this staff-recommended title.
Description: Wash Day Diaries tells the story of four best friends—Kim, Tanisha, Davene, and Cookie—through connected short story comics that follow these young women through the ups and downs of their daily lives in the Bronx. Each short story uses hair routines as a window into the characters' everyday lives and how they care for each other.
Find all available formats in the catalog »
Why you should try it: If you want to listen to a page-turner with a touch of mystery and magic, try this—which is just what you need for Libro.fm's challenge for an audiobook by an API author.
Description: A highly imaginative thriller about a young woman who discovers that a strange map in her deceased father's belongings holds an incredible, deadly secret—one that will lead her on an extraordinary adventure and to the truth about her family's dark history.
Find all available formats in the catalog »
Why you should try it: Love books? Of course you do! So does the main character of this graphic novel—hence why he is carrying a stack of books on the cover—which qualifies this book for 52 Book Club's challenge to read a book with books on the cover.
Description: Ben Cook has just graduated college with the dream of landing a publishing job but has absolutely no professional prospects, a secret he's keeping from his helicopter parents. In desperation after more than a dozen unsuccessful interviews, he lands a job at vegetarian eatery Cochon Doré and dives headfirst into something school could never have prepared him for: his own miniature MasterChef gauntlet to win a full-time gig. The biggest hurdle? Ben's budding crush on cutie sous chef, Liam.—Publishers Weekly
Find all available formats in the catalog »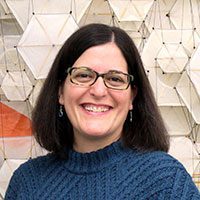 About Kathy
Kathy is a Collection Management Librarian who loves reading, sharing, and talking about books. Her missions in life are to create communities of readers, convince folks that her official title should be "Book Pusher," and refute that "disco" is a dirty word.