By Collection Management Librarian Kathy
These tales of the supernatural and the occult are sure to get you in the Halloween spirit.
Frighteningly true tales
Why you should try it: Take a walk on the scary side when you explore the dark underbelly of the Windy City.
Description: This isn't your average travel book—and these aren't your average tourist destinations! Take a wild ride through hidden Windy City history—often dark, sometimes inexplicable, and occasionally glamorous. Meet the gangsters, ghosts, serial killers, and celebrities that only Chicago could produce.
Why you should try it: Author Black makes fascinating connections between Germany's coming to terms with WWII and the supernatural phenomena that swept the country in the years that followed.
Description: A revelatory counterhistory of postwar Germany, not as a reborn democracy but as a nation convulsed by apocalyptic visions, witchcraft trials, and supernatural obsessions In the aftermath of World War II.
Why you should try it: This riveting read questions whether paranormal activity can be brought on by psychological trauma.
Description: In Alma Fielding's modest home, china flies off the shelves and eggs fly through the air. Stolen jewelry appears on her fingers, white mice crawl out of her handbag, beetles appear from under her gloves. In the middle of a car journey, a turtle materializes on her lap. Nandor Fodor, a Hungarian ghost hunter for the International Institute for Psychical Research, arrives to investigate the poltergeist. But when he embarks on his scrupulous investigation, he discovers that the case is even stranger than it seems.
Why you should try it: A biography of Marie Laveau, a history of Voodoo, and a spellbook all in one!
Description: Author Denise Alvarado explores Marie Laveau's life and work—the fascinating history and mystery. This book gives an overview of New Orleans Voodoo, its origins, history, and practices. It contains spells, prayers, rituals, recipes, and instructions for constructing New Orleans voodoo-style altars and crafting a voodoo amulet known as a gris-gris.
Why you should try it: Learn about (and see pictures!) of these creepy objects that have inspired books, movies, and campfire stories.
Description: An illustrated compendium that reveals the true stories behind the most infamous, creepy, and bizarre real-life cursed objects throughout history. Spanning decades and continents, subjects range from the opulent Hope Diamond to the humble Busy Stoop chair.
Why you should try it: Ghost stories plus poetry? Yes, please!
Description: This is a book of ghost stories, and for the most part, ghosts are jealous monsters, intent upon our destruction. They never appear overtly here, yet we gradually become aware of the spirits in haunted houses in the way they tread over creaky floors, slam doors, and issue sudden gusts of wind. These poems are Koan-like—the fewer the words, the more charged they are.
Why you should try it: For a completely original take on horror films and books.
Description: Night Rooms is a poetic, intimate collection of personal essays that weaves together fragmented images from horror films and cultural tropes to meditate on anxiety and depression, suicide, body image, identity, grief, and survival.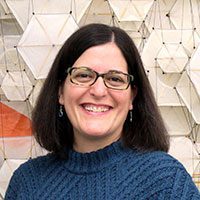 About Kathy
Kathy is a Collection Management Librarian who loves reading, sharing, and talking about books. Her missions in life are to: create communities of readers, convince folks that her official title should be "Book Pusher," and refute that "disco" is a dirty word.