By Collection Management Librarian Kathy
I love how much our community uses the library. Sometimes that means waiting for the hottest titles. Don't fret! I can help you find a similar reading experience to THAT book you are waiting for or that you finally read and loved.
Why you should try it: If you want more dystopian futures with a complex mother (or soon-to-be mother, in this case) at the center of it all, try this.
Description: The world as we know it is ending. Evolution has reversed itself, affecting every living creature on earth. Science cannot stop the world from running backwards, as woman after woman gives birth to infants that appear to be primitive species of humans. Twenty-six-year-old Cedar Hawk Songmaker, adopted daughter of a pair of big-hearted, open-minded Minneapolis liberals, is as disturbed and uncertain as the rest of America around her. But for Cedar, this change is profound and deeply personal. She is four months pregnant.
Find all available formats in the catalog »
Madam by Phoebe Wynne
Why you should try it: While this may not be a school for bad mothers, it is a boarding school that also functions through control and "tradition."
Description: "At an exclusive girls' school—high on the Scottish cliffs—26-year-old Rose Christie, the new classics head, quickly discovers an uncomfortable disjunction between her progressive beliefs and mission to educate her students for the future and the darkly, starkly traditional culture that prevails." (Library Journal)
Find all available formats in the catalog »
Why you should try it: Like The School for Good Mothers, this book also explores gender and motherhood in an environment where men police women's bodies.
Description: Born in 1982 and given the most common name for Korean baby girls, Jiyoung quickly becomes the unfavored sister to her princeling little brother. Always, her behavior is policed by the male figures around her—from the elementary school teachers who enforce strict uniforms for girls, to the coworkers who install a hidden camera in the women's restroom and post their photos online. Jiyoung's painfully common life is juxtaposed against a backdrop of an advancing Korea, as it abandons "family planning" birth control policies and passes new legislation against gender discrimination.
Find all available formats in the catalog »
Why you should try it: Not a dystopia but the reality of the 1960s when young pregnant women's bodies and choices were not their own.
Description: In 1960, free-spirited Doreen is a recent high-school grad and waitress in a Chicago diner. She doesn't know Margie, 16 and bookish, who lives a sheltered suburban life, but they soon meet when unplanned pregnancies send them to the Holy Family Home for the Wayward in rural Illinois. Assigned as roommates because their due dates line up, Margie and Doreen navigate Holy Family's culture of secrecy and shame and become fast friends as the weight of their coming decision—to keep or surrender their babies—becomes clear. Except, they soon realize, the decision has already been made for them.
Find all available formats in the catalog »
Why you should try it: These stories grapple with racism and sexism and feature women who are "defined and confined by and reliant on motherhood"(Booklist).
Description: A collection of short stories—by a three-time Pushcart Prize winner—following Chinese women in both China and the United States who turn to signs and languages as they cross the alien landscapes of migration and motherhood.
Find all available formats in the catalog »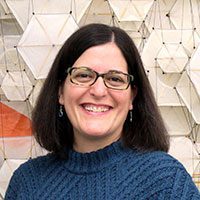 About Kathy
Kathy is a Collection Management Librarian who loves reading, sharing, and talking about books. Her missions in life are to: create communities of readers, convince folks that her official title should be "Book Pusher," and refute that "disco" is a dirty word.