By Collection Management Librarian Kathy
I love how much our community uses the library. Sometimes that means waiting for the hottest titles. Don't fret! I can help you find a similar reading experience to THAT book you are waiting for or that you finally read and loved.
An evocative drama, More Than You'll Ever Know is about a woman caught leading a double life after one husband murders the other, and the true-crime writer who becomes obsessed with telling her story. Sound interesting? Check out these readalike titles!
Why you should try it: While more noir-ish, this will satisfy your craving for a literary thriller starring strong and mysterious women.
Description: Mexico in the 1970s is a dangerous country, even for Maite, a secretary who spends her life seeking the romance found in cheap comic books and ignoring the activists protesting around the city. When her next-door neighbor, the beautiful art student Leonora, disappears under suspicious circumstances, Maite finds herself searching for the missing woman—and journeying deeper into Leonora's secret life of student radicals and dissidents.
Find all available formats in the catalog »
Why you should try it: Another women becoming obsessed with finding the truth about a crime, although in this case it's the victim's mother, adding a whole other level of emotion.
Description: After Rita is found dead in a church she used to attend, the official investigation into the incident is quickly closed. Her sickly mother is the only person still determined to find the culprit.
Find all available formats in the catalog »
Why you should try it: Though very different in terms of plot, this is another psychological suspense novel with parallel narratives, perfect for book discussions.
Description: Skye Starling is overjoyed when her boyfriend, Burke Michaels, proposes after a whirlwind courtship. Except, Burke isn't who he claims to be. And interspersed letters to his therapist reveal the truth: He's happily married and using Skye for his own, deceptive ends. In a third perspective, set 30 years earlier, a scrappy 17-year-old named Heather is determined to end things with Burke, a local bad boy, and make a better life for herself in New York City.
Find all available formats in the catalog »
Why you should try it: For readers who enjoy the thriller aspect but really love stories about familial dynamics and secrecy.
Description: Seven-year-old Chula and her older sister Cassandra enjoy carefree lives thanks to their gated community in Bogotá, but the threat of kidnappings, car bombs, and assassinations hover just outside the neighborhood walls, where the godlike drug lord Pablo Escobar continues to elude authorities and capture the attention of the nation. When their mother hires Petrona, a live-in-maid from the city's guerrilla-occupied slum, Chula makes it her mission to understand Petrona's mysterious ways.
Find all available formats in the catalog »
Why you should try it: This may be more experimental but if you liked the true crime aspect of More Than You'll Ever Know, you'll enjoy this book's subversion of the genre.
Description: True crime writer Gage Chandler is being offered the chance for his big break: to move into the house where a pair of briefly notorious murders occurred, apparently the work of disaffected teens during the Satanic Panic of the 1980s. He begins his research with diligence and enthusiasm, but soon the story leads him into a puzzle he never expected—back into his own work and what it means, back to the very core of what he does and who he is.
Find all available formats in the catalog »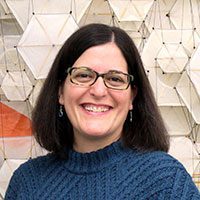 About Kathy
Kathy is a Collection Management Librarian who loves reading, sharing, and talking about books. Her missions in life are to: create communities of readers, convince folks that her official title should be "Book Pusher," and refute that "disco" is a dirty word.